Larry Cassingham, Detectron and Hollywood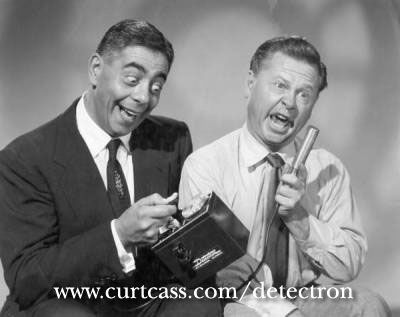 Actors Mickey Rooney (right) and the late Robert Strauss clown around with a model DG-7 Geiger counter in this publicity still for Republic Pictures' 1954 sci-fi film "The Atomic Kid"

"We even made it into the movies back then," continues Cassingham. "They used Geiger counters as props in many sci-fi films. Next time you see an old movie about a radioactive monster, meteorite, or atomic fallout, watch for our Geiger counters. Sometimes they'll show a close-up. In movies such as The Brain From Planet Arous, you can see the name Detectron when they show the count-meter reacting to the radiation.

"I also served as Technical Director on some films, such as Zombies from the Stratosphere with Leonard Nimoy, and The Atomic Kid with Mickey Rooney and Robert Strauss. I remember arguing with various movie directors. They often wanted more drama, and I wanted more technical accuracy. I usually lost!"

By 1956 the uranium boom was pretty much over, and radiation detection equipment was in much lower demand. However, the other metal detection products in the Detectron line were still selling well.

"I received an urgent call from a manager at Los Angeles International Airport," Cassingham remembers. "Seems they were having a problem with a segment of runway lights, and wondered if any of our detectors could help them locate a broken power conduit. I drove down there with a Model 505 Pipe and Cable Detector, and found the problem pretty quickly. I don't remember what caused the break, but I remember my fee: $150!"

Detectron did have a "first" of sorts, in one of its products. That product, a transistor AM radio, was the first such radio that used standard, commonly available batteries: D cells.

Though a talented businessman, Cassingham's education and career began in the journalism field. Both to provide an outlet for his creativity and to promote Detectron products, he started a periodical Outdoor Times, which had many subscribers in the field of prospecting. It contained photos and articles on the hobby, and of course news on the latest Detectron products.

Cassingham and Rondou eventually branched out into other fields, including making testing equipment for another new field, computers, with the company Computer Measurements Corporation. They sold the Detectron name and business in 1961 to Tinker and Rasor, who still have a line of Detectron products, including the original, distintive Detectron logo.

Cassingham eventually got back into the Geiger counter and metal detector business as Rayscope, but that's another story...

Links to more information


Geiger counters on the web
http://www.google.com/search?q=geiger+counter

The Internet Movie Database's entries on J L Cassingham contains links to the films he worked on

Tinker and Rasor's Detectron home page
http://www.tinker-rasor.com/detectron/

Goldak's home page
http://www.goldak.com/

Back to...
Previous Detectron page
Curt's home page
Brian's home page
Randy's home page

For information regarding the old Detectron, CMC or Rayscope, please drop me a line.

Copyright © 2000-2011 Curt Cassingham. All Rights Reserved.
Last updated February 7, 2011